Marseille (pronounced mar-say)
How to get to Marseille?
As France oldest major city, Marseille is a must see in the region. Ideally situated, it only takes 3 hours 15 minutes by the TGV high speed train from Paris downtown to Marseille. There are also direct TGV trains from Paris CDG Airport. 
Marseille is one of the entry door to the Provence, especially thanks to its International Airport (called Marignane Marseille Provence Airport), located in the North of the city on the way to Avignon and Aix-en-Provence, perfect to reach the Provence region without driving through Marseille city (which is a real nightmare). For more details see our Map of Provence. 
It is often not a lot more expensive to buy a flight from the USA, Canada or Australia into Marseille (often via one of the main European hubs). Also, it is a good way to avoid a return train to Paris and the tiredness to take a flight from CDG. Indeed, the Marseille airport is smaller with all conveniences including the rental car agencies and comfortable hotels. From there, our closest B&B accommodation is only an hour away. You can see our Provence & the French Riviera 7 day itinerary. 
What to do & see in Marseille?
Marseille was taken over by the Romans 2000 years ago. Their establishment in the Provencal region brought many changes. Within the city, an agora forum was built as well as a Roman theater and thermal baths, with few remains today near the Vieux-Port (Old Port). However in the South of France, near Marseille, some very well preserved ancient Roman sites, are worth visiting. The most famous are the Roman aqueduct: Pont du Gard, the reputed Théâtre d'Orange (Orange Theater) and Arles arena.
Marseille has for a long time relied on its ports, hence, the city revolves around the old port (Vieux port). The city is a museum in itself.  The opening to the Mediterranean Sea and international exchanges has created a place, home of immigrants from different nations, who significantly influenced Marseille throughout centuries. In 2013, Marseille also became the European Capital of Culture and opened a new museums of the Mediterranean culture called MUCEM.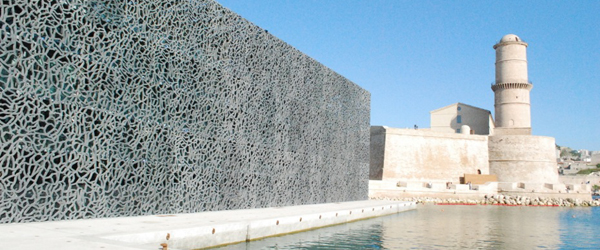 The Mucem museum and fort in the back - ©FJFY
Another curiosity of Marseille architectural landscape is the CMA CGM tower which is much taller than Marseille buildings. Its was completed in 2011 to host the company's headquarters. The architect is Zara Hadid. CMA CGM is a world leading shipping line company (in which Emilie worked for 3 years - in Miami office -  before creating France Just For You).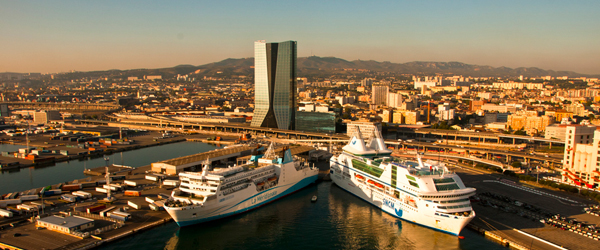 CMA CGM Tower & la Joliette district - ©Altivue
To get the best viewpoint of the city of Marseille including the Vieux Port, you will have to walk up to Notre Dame de la Garde Cathedral which overlooks the whole city of Marseille. This is a long way up but there is a project to build a cable-car - similar to the one in Barcelona - that will go up from the Old Port to the Cathedral. This is a highly political project....let's see what will happen in the years to come. 
Cassis Creeks - Les Calanques
Driving East of Marseille, towards Nice, you will reach a very unique landscape called Les Calanques – The creeks. The most famous ones are around the town of Cassis. They have an easy access which don't require hiking shoes or skills. This is also a beautiful port, departing point of the relaxing boat tours around the calanques.
From Cassis, there are several easy walks that will take you to 1, 2 or 3 different calanques creeks.
 Cassis Creeks - ©Marseille Tourist Office
We will also share some tips so you can easily access some hidden creeks and enjoy a Bouillabaisse traditional fish soup in front of a breathtaking scenery.
For nature and hiking lovers, we will provide detailed maps and itineraries that will take you to the most remote creeks – away from the crowds – that will reward the travelers with a gorgeous view over the Mediterranean Sea and why not a sea bath? 
If you would like us to work on your trip to Provence, just send us an email at emilie(at)france-justforyou.com or via our contact form.