Montmartre hill
The Butte de Montmartre - Montmartre hill - is a district of working class and small bourgeoisie, having the privilege to live in the highest point of Paris and have therefore the most spectacular view of this ravishing capital.
Following the step of the eccentric and adorable Amelie Poulain, climb the garden leading to the pure and white Basilica Sacre Coeur. Despite being one of the main attraction of Paris, the Butte de Montmartre keeps its secretiveness and traditionally rural origins. You will feel the quietness and peacefulness of its narrow streets.
Audrey Tautou in Le Fabuleux Destin d'Amélie Poulain by Jean-Pierre Jeunet
English title is Amelie from Montmartre 
Vineyard still grows on Montmartre and every year they make Montmartre wine.
Near the Sacre Coeur, wander between the restaurants and street artists offering quick portraits or paintings on Place du Tertre.
Fabrics lovers will be very pleased at the foot of Montmartre hill, with Marché Saint Pierre or Reine which are two of the most important and traditional notions stores in France.
 We will recommend you a walking tour in Montmartre on the footsteps of a famous French painter, to avoid parts of the tourist crowds and enjoy the history of the district. 
Moulin Rouge & French Cancan
Not far from Montmartre you will arrive in Pigalle with its famous the Moulin Rouge cabaret. Paris is not all about the elegance and intellectual, the dark side of the City of Light is known to be the cabaret. Made popular to the tourists since the American movie Moulin Rouge, cabarets offers a colorful show with topless women with glittery costumes with feathers. The tourists enjoy their dinner while watching this mythical show and clapping along the French can can.
Cabarets are spread from the Champs Elysées to Montmartre and Pigalle. The most known houses are the Moulin Rouge, the Lido and les Folies Bergères.
You can enjoy a nice evening there if you don't mind the considerable spending.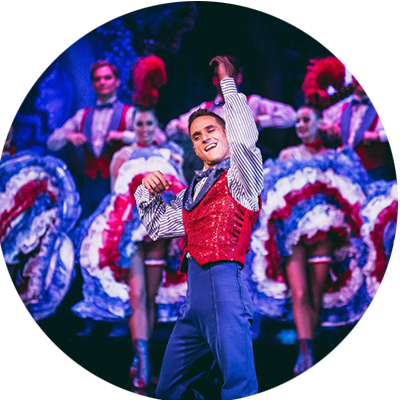 Dancers in Moulin Rouge
Pere lachaise graveyard
The cemetery of Pere lachaise is the final resting place of many important French figures as well as foreign ones. Situated in the east of Paris on a 116 acres site on a hill, the Pere Lachaise cemetery is one of the largest in the world.
Wander through this city of the dead in narrow crooked streets, in between tombs covered with moss, deformed trees and beautiful terraces. The eerie atmosphere of the Pere Lachaise is overwhelming, as if those gone where eternally protected from the outside world by the enchantress cemetery.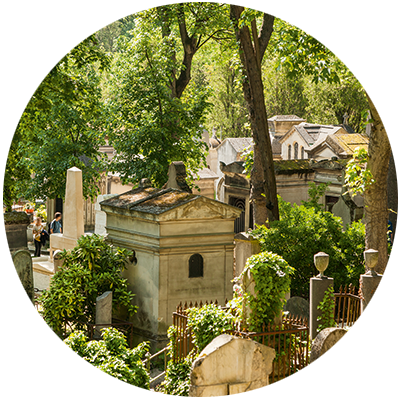 Père Lachaise Graveyard in Paris
You will be able to pay a tribute to the renowned figures of the past such as Moliere, Chopin, Jim Morrison, Edith Piaf, Marcel Proust, Oscar Wilde, as well as the victims of the concentration camps during the second world war.