Le Marais is the lively and modern district of Paris: the place to be. Centered around the Halles market and Pompidou center, also called Beaubourg Modern Art Museum, the Marais offers many art galleries, cafés, shops and lovely streets perfect to wander through this mixed neighborhood. On the eastern side, you will discover beautiful private mansions, some transformed into art galleries, the Jewish quarter with delicious restaurants.
The Pompidou center is the French equivalent to MoMA. The modern and controverted building is a blend of glass, colors and pipes, it offers a magnificent view of the city from its top.
On the side of the Pompidou center, on Igor Stravinsky square, colorful and harmonious fountains, full of kids playing into the water in summer, is a delight for the eyes. They were designed by the famous Niki St Phalle and Jean Tinguely.
In summertime, there is always some street art going on in this area.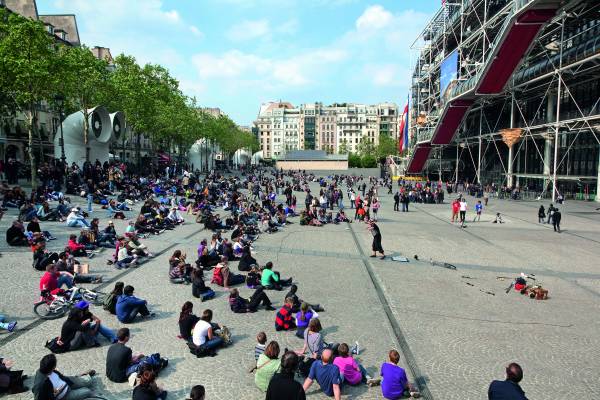 Beaubourg Modern Art Museum esplanade
The numerous designers of the Marais are known for their avant-garde collections. While strolling the great shops of Le Marais district, you might find some hidden jewels you may be tempted to bring back home.
Les Halles have always been the main food market in Paris: it became a very bad neighborhood in the 90's and was entirely renovated very lately. The new roof architecture is quite controversial – we let you judge of it. For cheaper shopping, you may head to rue de Saint Denis.
For some nice food shopping, we advise you to go to rue Montorgueil (Sentier metro stop).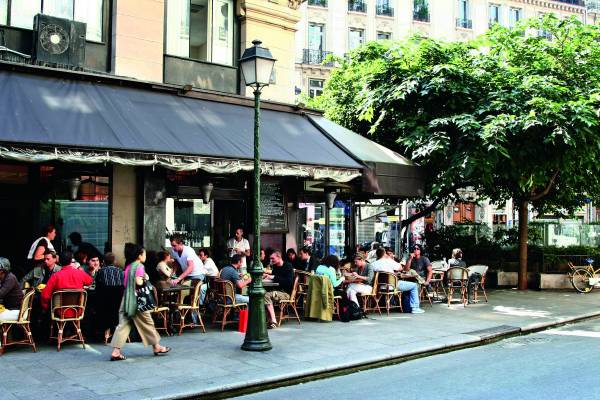 Food shopping or nice terraces, rue Montorgueil
Le Marais district stretches East to the Bastille square and on the way, you should not miss the gorgeous and unique architecture of Place des Voges.
Historically, Le Marais is Paris Jewish district and Rue des Rosiers remains the heart of it with its synagogue and typical restaurants: the most famous is l'As du Fallafel for which you may have to be patient to be served as it is a very busy place. For a nice snack, in a quieter ambiance, you may enjoy a tea & cake at Le Loir dans la Théière.
Art lovers will also enjoy the renovated Picasso Museum and its 4600 artworks.
Eventually, Paris City Hall is along Le Marais district south-west border: this is an impressive monument which you should stop for a minute and look at. Next to it, shopping lovers will enjoy the BHV (Bazar de l'Hotel de Ville). This is a Grand Magasin like Printemps or Galleries Lafayette but we like it better for its Eiffel architecture and the little less tourist crowds than in the Boulevard Haussman's grands magasins.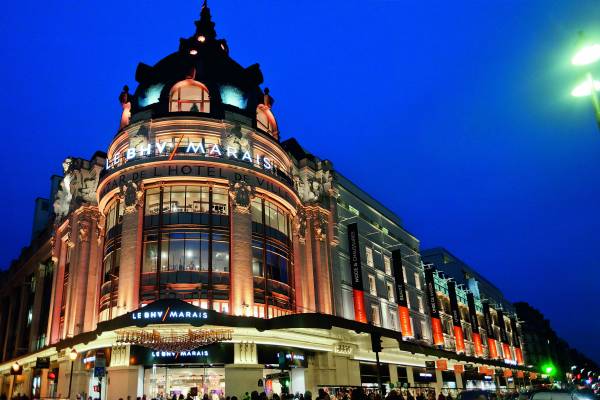 BHV Grand Magasin couple and Paris City Hall on the right