The Champs Elysées avenue starts at Place de l'Etoile (triomphal Arch) and ends on the famous Place de la Concorde.
Place de la Concorde was the scene of bloody events especially during the Revolutionary guillotine where many died with amongst them Louis XVI, Marie Antoinette, Robespierre and Danton.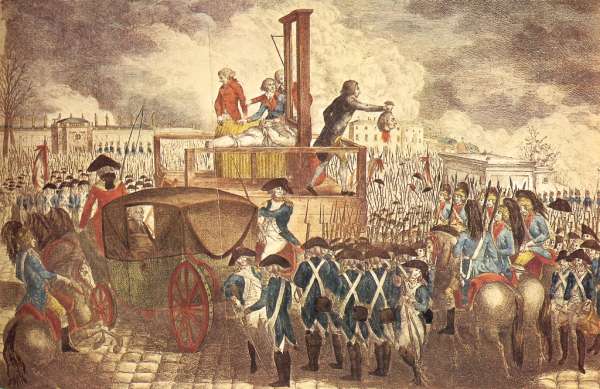 King Louis 16th decapitation on Place de la Concorde - German engraving from 1793
At its center rises an Egyptian obelisk from the Temple of Ramses at Luxor paying a tribute to the former glorious colonizer France (Napoleon legacy).
The Place de la Concorde reunites important monuments of beautiful architectures. The French parliament, called Palais Bourbon : the "Assemblée Nationale" can be seen from the square, across the Seine river.
The magnificent rue Royale will lead you North to the church of the Madeleine, which looks like a temple. On each side of the Royal street, with a stunning view on the Place de la Concorde and its fountains stand the luxurious Hotel Crillon and the Hotel de la Marine, which is now the Navy Ministry. Rue Royale hosts some of the most luxury "boutiques" in Paris: jeweleries, Maxim's, Chanel, etc.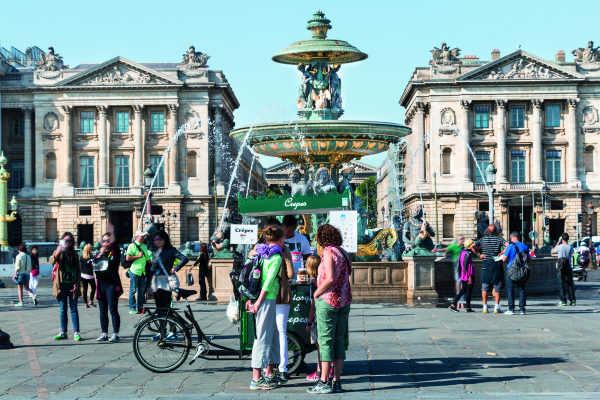 The obelisk and on the left is Hotel Crillon,
rue Royale and in the background the columns of Madeleine Church.
On the right is the start of rue de Rivoli

©Daniel Thierry - Paris TO
On the east of the Place de la Concorde is the Jardin des Tuileries, with the Orangerie Museum (with some of Monet Waterlilies). Strolling the Tuileries gardens towards East, along the Seine river, you will get to the Louvre Museum. 
Parallel to the Tuileries Gardens is the famous Rue de Rivoli and its beautiful arcades.
On a cold day, you will enjoy a warm chocolate at Angelina's.
Today the Concorde Square is used on our National Day, July 14th : the is the end of the parade on the Champs Elysées. It also hosts a huge fairground Ferris wheel most of the year - which is nice using if you don't mind the expense.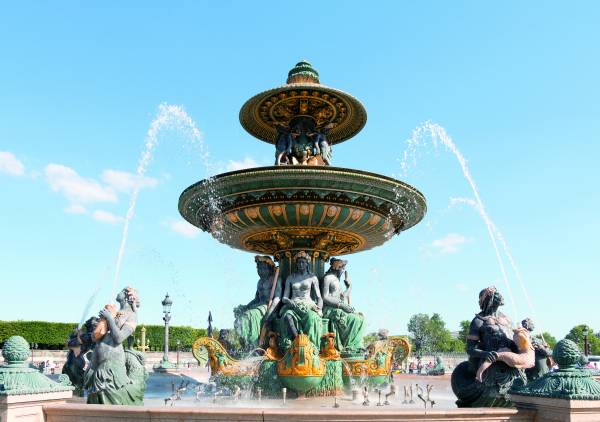 The gorgeous fountains of Concorde Square - ©Sarah Sargent - Paris TO