Les Champs Elysées
Elysian Fields comes from the greek word "Elusia" which means "where the gods and heroes come and rest".
The Champs Elysées is surely one of the most famous avenues in the world. Symbol of Paris, the Elysian Fields are the emblematic place of many events: military parade on Bastille day on July 14th, finish line of the Tour de France, New Year's Eve, Party for a soccer game cup, etc.
The Champs Elysées harbor its famous theater, movie theater, international chains and undoubtedly for its international recognition in the grand fashion houses.
What we like best on the Champs Elysées - if you are not a shopping addict - is the Eastern part with the Grand & Petit Palais, getting to Alexander Third Bridge.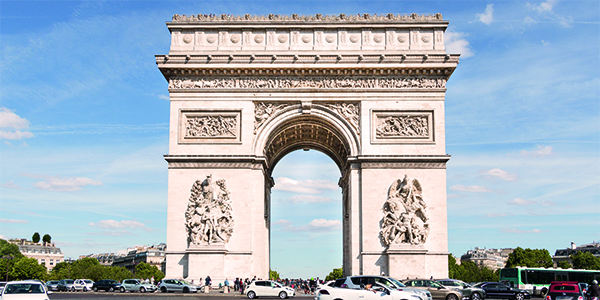 Arc de Triomphe on Place de l'Etoile - ©Daniel Thierry Paris TO
Place de l'Etoile & Triomph Arch
At the far west of the Champs Elysées, the Arc de Triomphe proudly stands on the Place de l'Etoile. 
This imposing arch at the center of the Place de l'Etoile (also called place Charles de Gaulle) has been the symbol of the grandeur of France.
The Arc de Triomphe was built in 1806 by Napoleon the First to commemorate those who fought for France (as well as himself). The tomb of the unknown soldier killed during the World War I is placed under its beautiful arch. It honors all those who fought for France. 
The Arche de Triomphe is the second largest triumphal arch in the world. The monument measures 164 feet - 50 meters in height and 148 feet – 45 meters in wide. The Arc de Triomphe is built as the center of a busy roundabout on the western end of the Champs Elysées. If you climb the stairs to the top, you will have a grandiose view over the Elysian Fields and the avenues departing from the Arc in a star shape – giving its nickname to the square: Place de l'Etoile.
If you drive in Paris, this is the one place you don't want to drive on. This is probably the biggest roundabout in the world but it has its own special rules (yes: French people like exceptions to rules). Contrary to other roundabouts, those who enter the square have priority over those who are already on it. This is a nightmare for non-Parisian drivers.