The "Tour de France" in 16 days
Price:
US$ 3 200
Per traveler, including taxes, based on double occupancy.
Tour information
Region:
Loire Valley & Bordeaux & Provence & Dordogne
France Just For You has organized its own very special Tour de France. No need for a bike but be ready for a great deal of adventure! This itinerary will take you off the beaten path to all the must sees & dos throughout 4 of the most enthralling regions of France.
You will spend the first 4 nights of your journey in a restored 15th century farmhouse where you will be warmly welcomed by Flo & Phil. They know the Loire Valley inside out and can give you off-the-beaten-path addresses and tips on finding places that tourists usually miss. One evening they will cook a delicious "Table d'Hôtes" dinner that you will share with them and other guests.
Located on the south banks of the Vienne River, this charming B&B is within short driving distance of Chinon and Saumur, beautiful, historic cities.
You'll be among the happy few allowed to experience the Chateau de Chambord away from the crowds! Take a ride in the state forest where King François the First used to go hunting. You will learn how this amazing estate was created.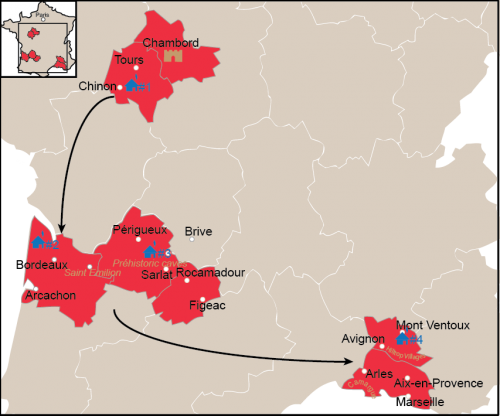 Your second stop for 2 nights is in the Médoc vineyard, near Bordeaux, in a former wine estate where you will be welcomed by a French family. They have a huge kitchen garden and produce their own fruits to make breakfast jams.
Built along the banks of the Garonne river, the opulent merchants' homes are very specific to Bordeaux. You will find everything you need: from villages nestled into the Medoc or St Emilion vineyards, to the bustling night life in Bordeaux. Also, bear in mind that Bordeaux's Sainte Catherine Street is the longest shopping street in Europe!
Very near Bordeaux, we have planned a very special wine tasting: for an hour, a wine specialist will test all your senses, taste, smell,sight, and will guide you to discover your wine preferences!
In Black Perigord you will stay in a restored stone house for 3 nights and share a mouth-watering dinner cooked by your Host Dominique. Together with her husband, they will happily share with you tips and hints to help you make the most of your journey.
Dordogne is famous for the prehistoric caves in Lascaux and we'll recommend you several more intimate visits, in 15,000 to 20,000 year old caves. If you are interested in history or if you are a JM Auel reader, this is a must! Another day, let a passionate villager take you on an unforgettable search for the black diamond: Perigord truffles. Nestled in a typical Dordogne hamlet, the view of the surrounding valley is gorgeous. This is an experience you'll remember!
We'll tell you where to find the most typical goat cheeses - and if you like outdoor activities, you'll be in paradise.You'll also visit the old city of Sarlat and feel the buzz of activity on market days.
Your last Bed & Breakfast for 4 nights lies in a lovely village on the slopes of Mont Ventoux. Your Hosts have a very comfortable house, decorated in the Provençal style. Phil used to be a Chef in gastronomic restaurants, so be ready for a fabulous Table d'Hôtes dinner! And while we're on the subject of Provençal cuisine, we have planned a special cooking class for you with Catherine. She writes cook books and will teach you how to prepare a 3-course meal using the delicious fresh produce of Provence, a very convivial experience!
Go shopping in Aix-en-Provence or take a sunbath near Cassis. Arles, famous for its arena dating back to the Roman Empire, will take you 2,000 years back in time.
After that, will you still watch the "Tour de France" on TV?
Tour description
Night stays:
15 nights at Bed & Breakfasts that we personally selected for you
Rental car:
A
rental car
, with automatic transmission and GPS, for 16 days
Dinners:
3 «Table d'Hôtes» home cooked dinners, with your Hosts and fellow travelers
Emergency contact:
The assurance that you can contact us at any time, for any reason, while you're in France
Guidebook:
A
guidebook
made especially for you and all road maps with recommended itineraries, activities and visits
Tour accommodations
B&B 1. A charming farmhouse located between Chinon and Azay le Rideau
B&B 1. ...with tastefully restored cozy rooms
B&B 1. Enjoy a traditional dinner cooked by Flo & Phil in a friendly atmosphere
B&B 2. A wine estate in the Medoc area, north of Bordeaux...
B&B 2. ...with bright welcoming rooms
B&B 3. An old farmhouse from the 16th century...
B&B 3. ...with cosy rooms full of charm...
B&B 3. ...a very nice pool...
B&B 3. and delicious homemade breakfasts !
B&B 4. A town house near Mount Ventoux, nestled in a lovely garden
B&B 4. Stay in traditional Provençal style rooms
B&B 4. Taste an amazing dinner cooked by your Host, a former chef
Tour activities
Chambord Castle Backstage
Discover the Chambord Castle backstage & take a ride in the state forest where King François the First used to go hunting.
Spend a morning looking for truffles in the Dordogne with a professional and his truffle hound.
For an hour, a wine specialist will stimulate all your senses and will guide you to discover your wine preferences through 6 very different wines that you'll "blind taste". You'll end up with a personal booklet with a list of the wines YOU like.
Cooking Class with Catherine
Spend a morning cooking with Catherine in her Provençal-style kitchen. You will prepare a 3-course lunch that you will then savour in the garden. Get to know and learn how to cook local Mediterranean dishes made with ingredients you can find back home.
Custom quote ? Contact us
You want to buy this tour?
Follow the 5 steps, it is as simple as that...
100% customized to your itinerary. It is the perfect tool before, during & after your trip.