The Loire Valley Jewels
8 days
Loire Valley
Wine Tasting
Villages & Markets
Sceneries
US$ 2,160 Per traveler, including taxes, based on double occupancy.
Book now
This itinerary through the Loire Valley will give you a great overview of the main Loire castles and gardens, regional handicrafts and Touraine gastronomy.
NORTHERN LOIRE : the Must Sees
Pick up the rental car in Paris downtown or at CDG airport (or another location) and drive 3 hours to the gorgeous Loire region.
For the first 3 nights, stay in a gorgeous lord mansion from the 16th century near Amboise in the Northern Loire. Built by the chamberlain who ordered the construction of Chenonceau castle, you are be in an exceptional place! In addition, you'll enjoy a very welcoming hostess, a tastefully restored room and the lovely garden with an amazing view on the Loire valley and in the end, Amboise castle. Not far from paradise.
Discover the vineyards of the Loire Valley with a wine maker. She will take you to the vineyards for you to better understand the soil, terroir and vine growing. Then you will enjoy a wine tasting together with some local products. A great occasion to meet with a local.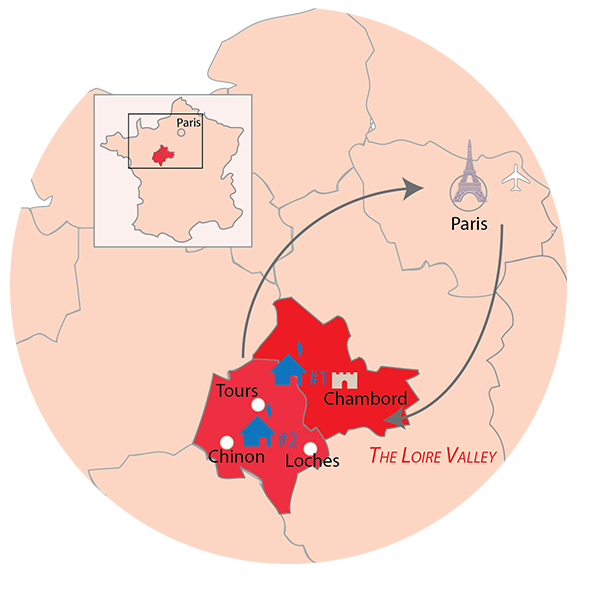 SOUTHERN LOIRE : Hidden Beauties
You will then reside for 4 nights in the outbuildings of a disappeared monastery dating back to the 14th century. Your charming Hosts know very well this region and will be happy to share some tips with you. One night, you will savor a delicious home-cooked dinner, prepared by Monsieur. Do not miss the aperitif in the underground vaulted cellar - an out-of-time experience!
Located on the south banks of the Vienne River, this charming B&B is within short driving distance of Chinon and Saumur, beautiful, historic cities. Included in this itinerary is a bike rental for a day. You will explore, at your own pace, several villages and castles such as Langeais and Villandry. No worries, the road along the Loire river is totally flat!
You will also wander off the beaten path into tiny villages stretched along the Vienne and Loire rivers and get a taste of French gastronomy in restaurants and local markets we have tested for you. 
On the last day you can return the rental car in Paris downtown, CDG Airport or another location depending on your next destination. 
This is Touraine sweet life!
This itinerary includes
Activities included in this tour