Castles, Caves & Coves
16 days
Loire Valley, Dordogne, Carcassonne & French Riviera
Wine Tasting
Villages & Markets
Art & Museums
US$ 3,730 Per traveler, including taxes, based on double occupancy.
Book now
Discover French culture and history through 3 of its most representative regions: the Loire Valley, Dordogne and the Riviera.
The Loire Valley
Spend the first 5 nights of your trip in  the outbuildings of a disappeared monastery dating back to the 14th century. Your charming Hosts know very well this region and will be happy to share some tips with you. One night, you will share a delicious home-cooked dinner, prepared by Monsieur. Do not miss the aperitif in the underground vaulted cellar - an out-of-time experience!
Feel the real French "good life" strolling around peaceful villages on market days. Included in this itinerary is a bike rental for a day. You will explore, at your own pace, several villages and castles such as Langeais and Villandry. No worries, the road along the Loire river is totally flat!
Enjoy a wine tasting experience in a limestone troglodyte cave and discover 5 different wines paired with cold cuts or cheeses. You will learn the 5 steps of wine tasting so you will be able to recognize and appreciate the wines of the Loire Valley.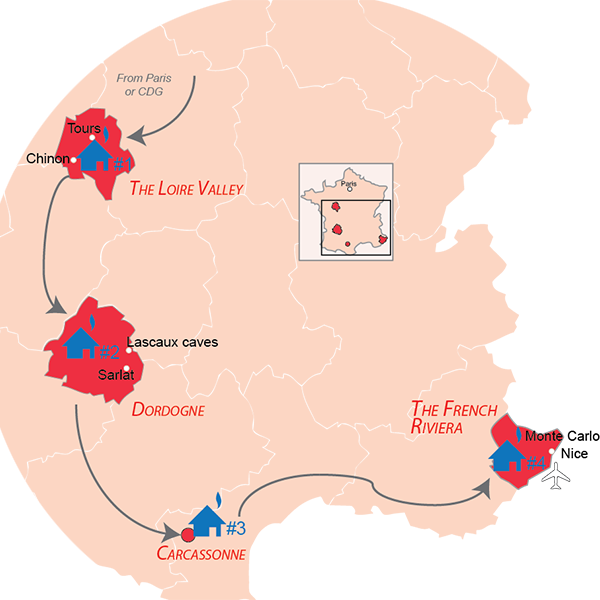 dordogne
In Black Perigord you will stay in an old stone Perigord style house for 5 nights near Sarlat. One night, you will share with fellow travelers a mouth watering dinner prepared by your lovely hosts. 
Dordogne is famous for its amazing prehistoric caves. If you are interested in history or if you are a JM Auel's reader, visiting one is a must! There is a lot to do in this region: medieval castles to visit, wonderful food to taste - we'll tell you where to find the most typical goat cheeses - and if you like outdoor activities, you'll be in paradise. We have selected the best section of the Dordogne river for you to canoe down enjoying the wonderful views of the medieval castles perched high above you.
You will also spend a day with a passionate private guide. She will take you back to the prehistoric and medieval times...and take you to places you could not visit on your own. 
CARCASSONNE & the cathar country
Carcassonne and the Cathar country are the perfect stop over on the way to Provence. Carcassonne medieval "Cité" will amaze you by its size and conservation. You will reside in a cozy B&B, by the walls of the cite, walking distance to all sightseeing and restaurants – but away from the tourist crowds.
On the 12th day, you will have the longest drive of the itinerary: 4hr30 drive to reach Nice on the French Riviera. 
The French Riviera
In the Riviera hinterland, you will have the opportunity to discover some of the most beautiful handicrafts in France, particularly ceramics, sculpture and painting. For art lovers the many art museums of Nice and its surroundings will amaze you with masterpieces by Chagall, Matisse and Picasso.

You will end your journey with 4 nights in the heart of a lively hilltop village in the back country, 7 miles – 11kms to the beach. Enjoy a peaceful atmosphere – away from the crowds - having a drink at a table at an outdoor cafe or strolling around a farmers' market. Enjoy staying in a luxury B&B house, full of artwork and with lovely hosts. A very unique place.

We plan for you to make your own fragance at a worldwide famous perfume house. You will be taught the basics of perfume making, then you will choose between hundreds of ingredients to prepare you own 100ml / 3.4 Oz Eau de Parfum which you can bring back home. 
But the Riviera is even more than that. The "Cote d'Azur" is a marvel of fabulous 19th century villas and sapphire water coves. From Antibes to Monte Carlo, seaside resorts will satisfy all your shopping desires during the day. At night you can rely on the Riviera bars, seaside restaurants and discos to entertain you.
After this trip, you may want to come back...
This itinerary includes
Activities included in this tour