Dordogne & Lot - Time Travel
8 days
Dordogne
Heritage & History
Villages & Markets
US$ 2,250 Per traveler, including taxes, based on double occupancy.
Book now
Dordogne & Lot have got everything for a memorable journey.
Dordogne
Jump into the history of the Paleolithic or the Middle Ages: painted caves & fortified castles standing guard over luxuriant nature have been awaiting your visit for centuries. Stroll, at your own pace, around some of the "Most Beautiful Villages of France" and take your time on market days to walk around the stalls and discover marvelous local products. 
In Black Perigord you will stay in a restored stone house for 4 nights and share a mouth-watering dinner with your Hosts. Dom and her husband will happily share with you tips and hints to help you make the most of your journey. From this B&B you are very close to Les Eyzies prehistoric caves. If you are interested in history or if you are a JM Auel's reader, this is a must! You will also visit the beautifully preserved old city of Sarlat and feel the buzz of activity on market days.
One day, let a local guide take you back to the prehistoric and medieval ages: a private guide is a great way to bring History back to life. It will also be an occasion to visit some sites you could not go on your own.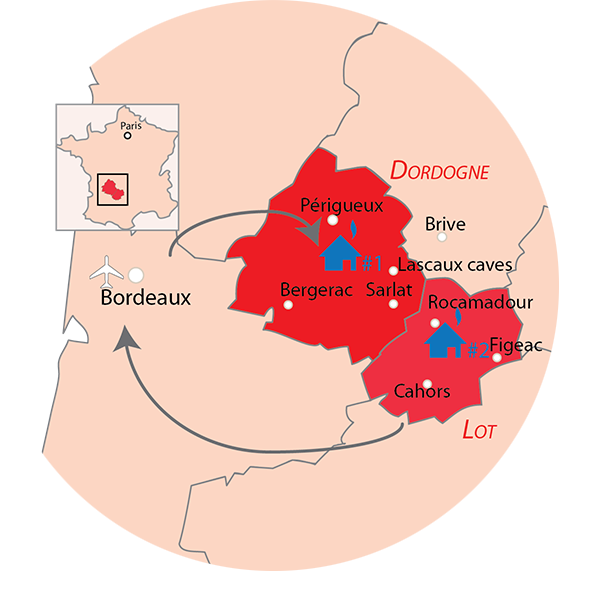 LOT
Near cliff-hanging Rocamadour in Quercy spend the last 3 nights in a beautifully restored family house. Francine was born in this region and she knows it inside out. We'll tell you where to find the most typical goat cheeses - and if you like outdoor activities, you'll be in paradise.
There is a lot to do in this region: medieval castles to visit, wonderful food to taste. We have selected the best section of the Dordogne river for you to canoe down enjoying the wonderful views of the medieval castles perched on cliffs high above you.
Meet people so in love with their region that they will happily share with you their passion for its history and traditions. Do not hesitate to make your Hosts talk; they are more than willing to uncover hidden secrets for you!
This region of France will take you back to the Middle Ages times
This itinerary includes
Activities included in this tour