The Food of the Basque Country
French cuisine has long reigned supreme on the world's culinary stage. Fine wines, fresh baguettes and strong cheeses are just some of the gastronomic delights for which France is famed. But, what about the less-known region of the Basque Country?
This region, situated in the South of France and spilling over in to Spain, has its own culinary offerings. Unique in many ways, there is a lot to be said for the gastronomy here. Let's take a look at some of the most interesting dishes that can be found on the menus of the Basque Country.
The Espelette Pepper (Piment d'Espelette)
You may not have heard of such things, but have you ever visited a hot pepper field and drying facility? Not too spicy but with enough of a kick for you to know it's there, the Espelette pepper is one of the most famous residents of the Basque Country. It is believed that this pepper originally came from Latin America. But, after centuries of cross-breeding with local species, it is now a completely unique pepper.
If you take a liking to this pepper then time your trip for the end of October and check out the Fête du Piment d'Espelette (Espelette Pepper Festival). The harvest season goes from mid-August until November.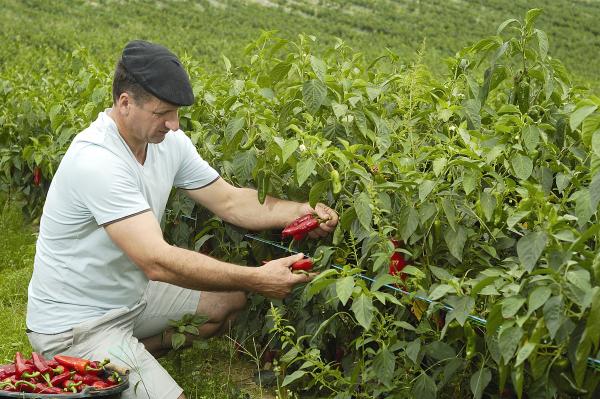 Espelette Pepper Harvest
The town of Espelette is lovely, with the pepper drying on the houses...but we'll also take you away from the beaten paths to other quaint villages - less touristy. 
Pintxos (Tapas)
Pintxos are small finger foods served at bars and taverns throughout the Basque Country. They are what Spanish people refer to as "tapas" – but in smaller portions. They are quintessential to the region and a trip to the Basque country would be incomplete without at least tasting some pintxos in a tavern with a glass of wine. 
The name comes from the Spanish verb "pinchar" meaning to poke or stab.
It's typical to go into a bar in the Basque Country to enjoy aperitive around 6pm or also for lunch on week-ends. The entire counter is lined with plates of various pintxos. They range from traditional pintxos such as potato omelettes, seafood on bread to mini haute cuisine experiments such as a grilled foie gras with a white bean cream and a fruity sauce.
The bars and taverns battle it out in yearly competitions to win a trophy for the best pintxos in their respective village or city.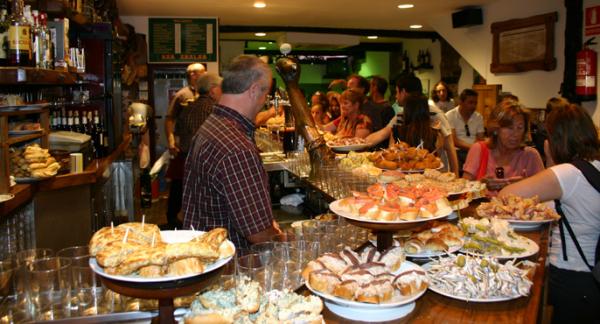 Pintxos time in the Basque Country
RED TUNA IN THE BASQUAISE MANNER (THON ROUGE 
À LA B
ASQUAISE)
This dish is made using the Northern Bluefin Tuna, the largest tuna in the world. The tuna is caught in the Atlantic and is a big hit with the Japanese who are prepared to pay top dollar for it. The fish is cooked with tomatoes, onions, herbs and a dash of white wine and served as a casserole.
Saint-Jean-de-Luz is the place to be to try this dish in all its glory.
Basque Fish Stew
(Ttoro Maison Croutons à l'Ail)
Given that the Basque Country is on the coast of France, it should come as little surprise that many of their famous dishes involve fish and seafood. This traditional stew is one of the region's most famous dishes and includes mussels, prawns, eel, hake, monkfish and more. It is topped with garlic croutons and a few sprigs of parsley.
Every restaurant has its own version of the dish, each comprising different ingredients. Ask the waiter to know which fish have been used in that restaurant's version.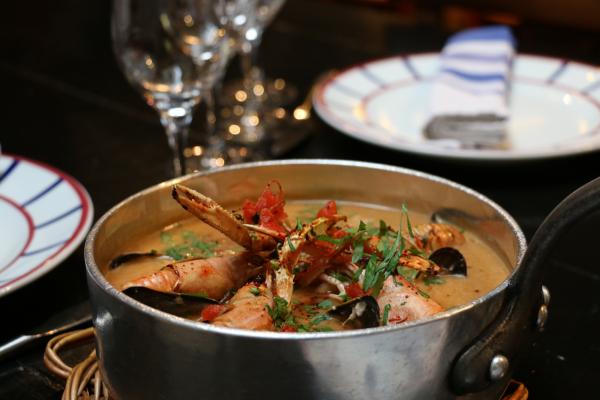 Ttoro stew
Le Gâteau Basque
Once you've filled up on dinner, give yourself some time to digest and then tuck into one of the Basque Country's delicious desserts. The Gâteau Basque is a double-crust pie filled with delicious hand-made pastry cream, custard or sometimes jam. Just the right level of sweet, this treat goes down perfectly after a gourmet meal in one of the Basque Country's fine dining establishment.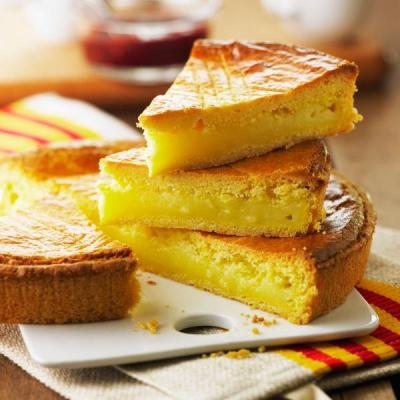 Le gâteau basque
If you like it, you can learn how to make it in the Basque Country with a professional Gâteau Basque chef.
There is so much to talk about...of course, we could have also mentionned the so famous smoked hams of the Basque Country (such as Bayonne but not only...), the Ossau Iraty sheep cheese which is very unique and tastful with a Itxassou black cherry ham, the Irrouléguy wines...but you'll need to come to the Basque Country to make your own experience. 
Has the Basque Country peaked your interest? If you want to learn more about the Basque Country, we offer a range of itineraries to help travellers explore this region.
Why not opt for a self-drive tour so that you can see the Basque Country at your own pace? Get in touch and let us create your dream holiday for you.