The Loire Valley & Bordeaux vineyards in 7 days
Price:
US$ 1 320
Per traveler, including taxes, based on double occupancy.
Tour information
Theme:
Wineries & Gardens & Handicrafts
Spend the first 4 nights of your journey in a restored 15th century farmhouse where you will be warmly welcomed by Flo & Phil. They know the Loire Valley inside out and can give you off-the-beaten-path addresses and tips on finding places that tourists usually miss. One evening they will cook a delicious "Table d'Hôtes" dinner that you will share with them and other guests.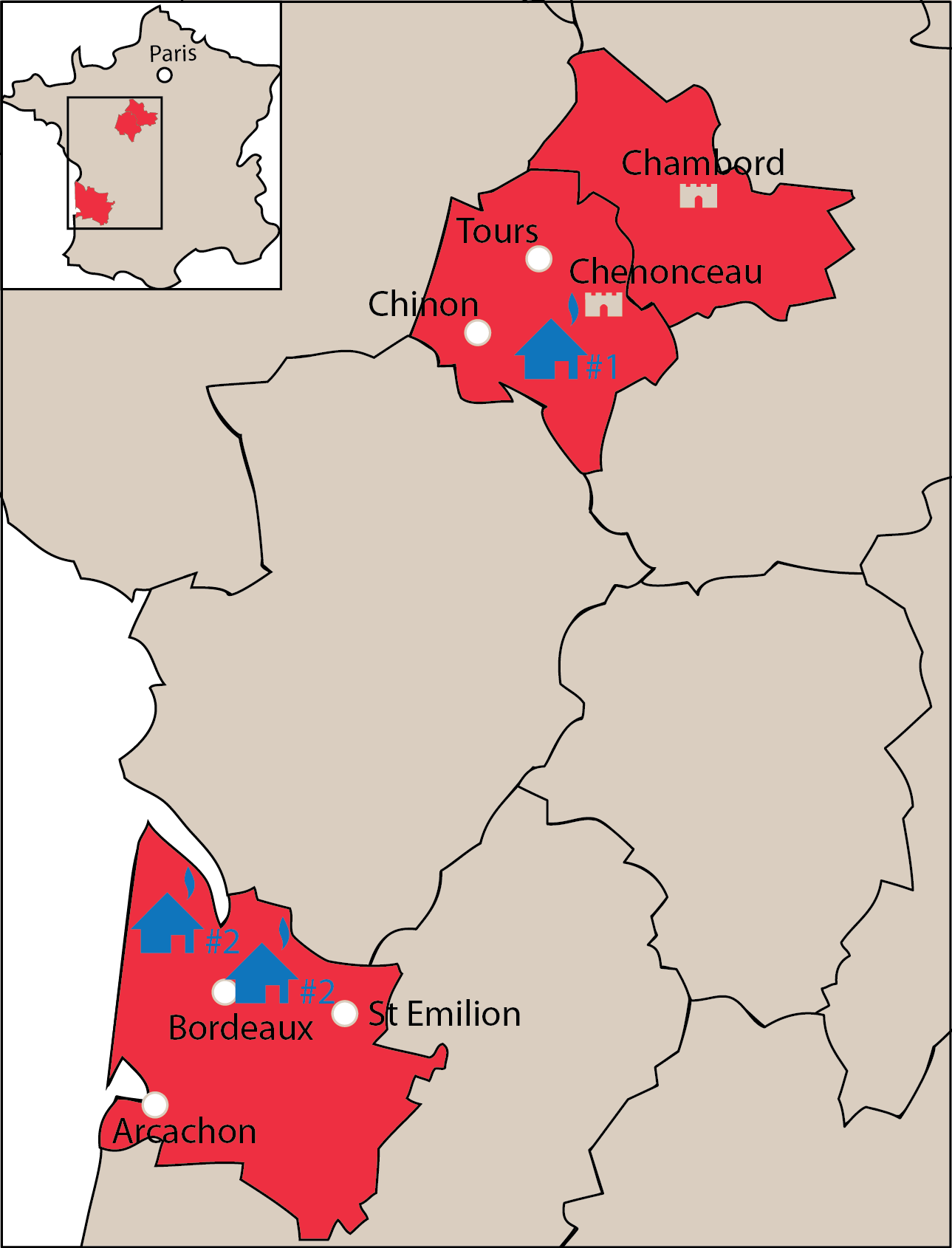 Located on the south banks of the Vienne River, this charming B&B is within short driving distance of Chinon and Saumur, beautiful, historic cities. Included in this itinerary is a bike rental for a day. You will explore, at your own pace, several villages and castles such as Langeais and Villandry. No worries, the road along the Loire river is totally flat!
Feel the real French "good life" strolling around peaceful villages on market days.
Continue your tour in the Bordeaux region either in a former Wine Estate in the Medoc area for the wine aficionados or in a townhouse inside the gates of Bordeaux for the lovers of this wonderful 17th century city. In both places you will be welcomed by a French family, in a peaceful atmosphere.
Built along the banks of the Garonne river, the opulent merchants' homes are very specific to Bordeaux. The rise of colonial trade together with the growth of the wine industry contributed to the amazing expansion of the Gironde region during the 18th century. You will find everything you need: from villages nestled into the Medoc or St Emilion vineyards, to the bustling night life in Bordeaux. Also, bear in mind that Bordeaux's Sainte Catherine Street is the longest shopping street in Europe!
Very near Bordeaux, we have planned a very special wine tasting: for an hour, a wine specialist will test all your senses, taste, smell, sight (appearance of wine), and will guide you to discover your wine preferences!
Welcome to France !
Tour description
Night stays:
6 nights at Bed & Breakfasts that we personally selected for you
Rental car:
A
rental car
, with automatic transmission and GPS, for 7 days
Dinners:
A «Table d'Hôtes» home-cooked dinner, with your Hosts and other travelers
Emergency contact:
The assurance that you can contact us at any time, for any reason, while you're in France
Guidebook:
A
guidebook
made especially for you and all road maps with recommended itineraries, activities and visits
Train:
High speed train "TGV" tickets Paris-Tours and Bordeaux-Paris
Tour accommodations
B&B 1. A charming farmhouse from the 15th century in its original style...
B&B 1. ...with tastefully restored comfortable rooms
B&B 1. Enjoy a traditional dinner cooked by Flo & Phil in a friendly atmosphere
B&B 2. A former Wine Estate surrounded by Medoc vineyard...
B&B 2. ...with bright welcoming rooms
B&B 2. Enjoy breakfasts with fresh local produce
B&B 2. OR a quiet townhouse in Bordeaux
B&B 2. ...to discover the city...
B&B 2. ...and feel at home
Tour activities
Spend a day biking at your own pace and discover many villages and castles nestled on the banks of the river. We have tested several itineraries so you can chose depending on your mood and what you would like to see.
Wine Tasting near Bordeaux
For an hour, a wine specialist will stimulate all your senses and will guide you to discover your wine preferences through 6 very different wines that you'll "blind taste". You'll end up with a personal booklet with a list of the wines YOU like.
Custom quote ? Contact us
You want to buy this tour?
Follow the 5 steps, it is as simple as that...
100% customized to your itinerary. It is the perfect tool before, during & after your trip.