Provence & Riviera in 7 days
Price:
US$ 1 570
Per traveler, including taxes, based on double occupancy.
Tour information
Region:
Provence & French Riviera
The Provence & Riviera itinerary will take your from must sees to hideaways, from Luberon stone villages to the Riviera's wonderful panoramas. Flower fragrances, glowing colors, Mediterranean tastes and sunshine will delight you.
Start your trip with 3 nights in a little Provençal village, conveniently located to explore the whole region. Fred & Jo will welcome you to their wonderful house that they have completely restored. In Provence, nature is everywhere : from Camargue salt marshes to Chateauneuf du Pape and its famous vineyards. For thoses who like outdoor activities, there are many hiking trails or biking tours through breathtaking landscapes. We will also tell you where to buy the best olive oil!
If you are interested in history, don't miss the Roman ruins at Arles, Orange and the Pont du Gard.
A stay in Provence would not be complete without some time in the vineyards. We have handpicked a wine estate that offers a picnic in the vineyards. They produce white, rosé and several red wines...you can taste them all and chose your bottle to accompany a great lunch composed of regional products...with a breathtaking view of Mont Ventoux.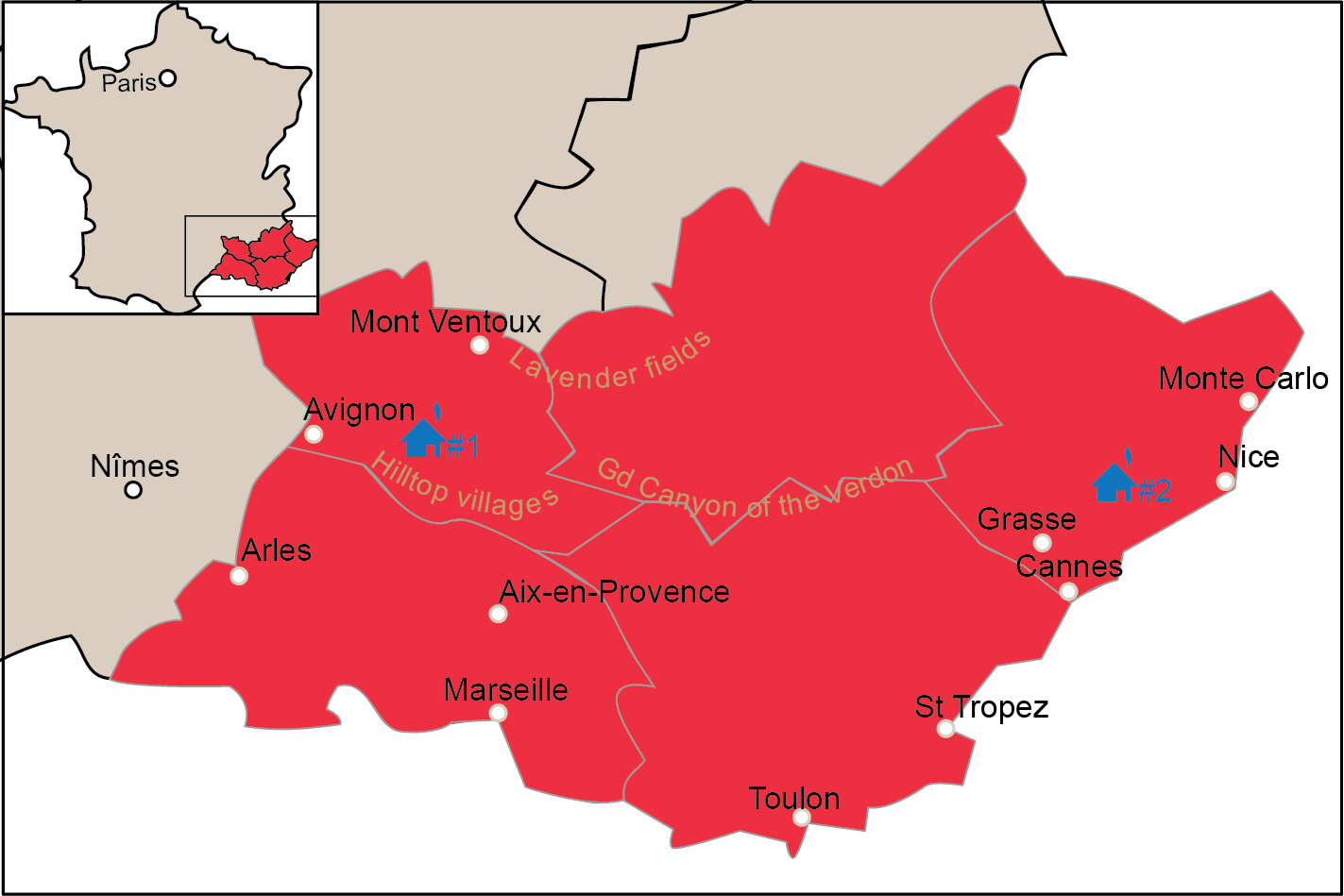 Uncover every mystery of Luberon. We will tell you about some hidden jewels - villages, off the beaten track – not too crowded…so you can experience life in Provence like Peter Mayle did. We can recommend a local market and wine cellar for each day of the week!
To avoid the crowds on the Riviera, we recommend that you stay in a small hilltop village in the back country. Enjoy a peaceful atmosphere while playing Petanque or having a drink at a table at an outdoor cafe, typical southern French activities. Your Hosts will welcome you very warmly and have you share a table d'hôtes dinner around the pool.
In the Riviera hinterland, you will have the opportunity to discover some of the most beautiful handicrafts in France, particularly ceramics, sculpture and painting. You might be tempted to step into a glassblower's shoes and make your own "chef d'oeuvre".
But the Riviera is even more than all this. The "Cote d'Azur" is a marvel of fabulous 19th century villas and sapphire water coves.
Wander about the narrow alleyways of the old city of Nice and visit the many famous art museums. Go shopping and enjoy views of the Mediterranean in seaside restaurants from Monte Carlo to Antibes.
Bienvenue en France !
Tour description
Night stays:
6 nights in Bed & Breakfasts that we personally selected for you
Rental car:
A
rental car
, with automatic transmission and GPS, for 7 days
Dinners:
A «Table d'Hôtes» home-cooked dinner, with your Hosts and fellow travelers
Emergency contact:
The assurance that you can contact us at any time, for any reason, while you're in France
Guidebook:
A
guidebook
made especially for you and all road maps with recommended itineraries, activities and visits
Tour accommodations
B&B 1. Enjoy the peace of a quaint village in Provence...
B&B 1. ...with cosy rooms...
B&B 1. ...and such friendly hosts!
B&B 2. Relax in a convivial house on the Riviera
B&B 2. Enjoy being outside after a day of sightseeing
B&B 2. Taste a delicious dinner cooked by your Hosts
Tour activities
Take a « Petanque » class in a very friendly atmosphere. Petanque is the most popular game in the streets in the south of France. Petanque is a must-do while traveling in Provence & the Riviera.
A Picnic in a Ventoux vineyard
Enjoy a visit to the cellar, and taste the white, rosé and red wines of the estate. Then, in the vineyards, have a picnic made of local products: charcuterie, cheeses, fruits & vegetables...and of course, the house wine!
Custom quote ? Contact us
You want to buy this tour?
Follow the 5 steps, it is as simple as that...
100% customized to your itinerary. It is the perfect tool before, during & after your trip.